Rita1652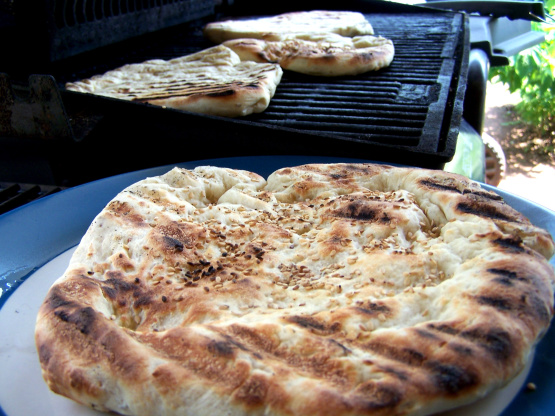 Leavened flatbread with semolina and anise seed typically baked but I grilled for an outdoor party and it was fabulous. This goes along with any spicy thing you cook up in a tagine. Or serve with dips. Bake or grill.

We all enjoyed this bread very much! That hint of anise seed was the perfect amount.
I grilled two loaves on a grill pan and baked two loaves. I liked the texture of the bread
better when grilled but most of the sesame seeds fell off when I pan grilled. Baking the
bread made them puffier but at least the sesame seeds stayed in place. I used part black sesame seeds, too for color contrast. Will make again! Reviewed for Veg Tag/June.
Place all the bread ingredients in the bread machine pan in the order suggested by the manufacturer.
Select dough cycle and start machine.
At end of cycle take dough out and punch dough down and flatten into four circles; placing on a lightly floured surface; cover with oiled plastic wrap and rise for 30 minutes.
Meanwhile preheat oven to 400 degrees or grill to high. Brush oil and sprinkle seeds.
Prick surface with skewer. Bake for 20 minutes or place on grill lower flame and bake for 5 minutes flip and grill 5 more minutes. Flipping as needed and cooking till hallow when tapped.