KateL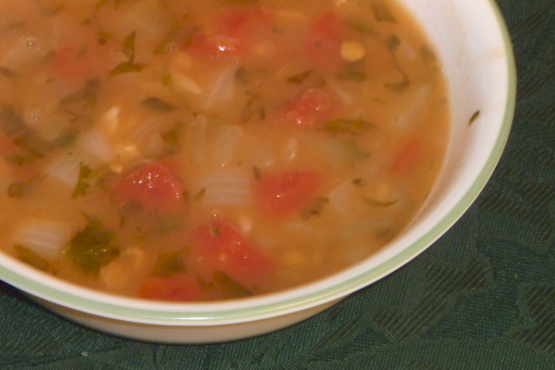 This thick soup is a wonderful comfort food. It's easy to make, delicious and healthy! I know the spices sound strange, but the end result is an excellent savory soup. Good enough for company!

I followed this right on target and we loved it! Yum, lentils! I also used fresh parsley, cilantro, and ginger. The orzo was just as completely yummy and was so good for comfort anld so good for your soul. And the cinnamon was just the right amount, and gave this a delightful twist. I also used fresh tomatoes with the juice from the tomato instead of canned tomatoes. Loved it, and will be making it again this weekend, made for *Veg Vegan* Swap September 2009.
Cook lentils in pot of boiling salted water for 2 minutes. Drain.
Heat oil in large pot over medium heat. Add onion, parsley, cilantro, ginger, and cinnamon. Saute 5 minutes or until onion is soft.
Stir in tomatoes and saute 5 minutes more.
Stir in broth, chickpeas, lentils, reserved tomato liquid, and 3 cups water.
Season with salt and pepper and bring to a boil.
Reduce heat to medium-low and simmer 45 minutes or until lentils are tender, stirring occassionally.
In separate bowl, whisk flour with 1 cup water.
Whisk in cilantro, lemon juice and tomato paste.
Add mixture to soup.
Add orzo to soup.
Cook for 5 minutes or until orzo is soft.