Linky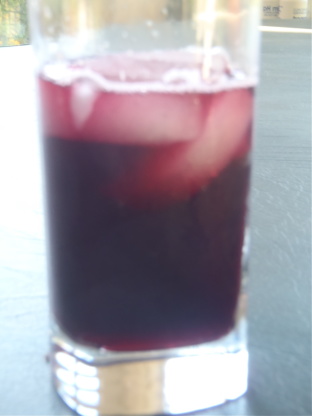 Found in the cookbook From the Lands of Figs and Olives. I don't know if this is supposed to be prepared with 100% white grape juice or 100% concord grape juice. I tested with unsweetened organic concord grape juice. You also have the option of making your own grape juice: Easy Concord Grape Juice. If your juice is sweetened, omit the sugar in the recipe. An ideal introduction to orange blossom water if you've never tasted it before.

Well, that was interesting! I chose this recipe because I had a partial bottle of grape juice in the fridge and didn't know what to do with it. I did like the drink - the orange water really changes it up, and my only complaint is that it was too sweet. I used honey, but only a touch because grape juice is already way sweet. If I do have this again, I'll probably try to lighten it up a little bit with some soda water to tone it down. Thanks for posting a quite unusual recipe! Made for ZWT9.
1

quart concord grape juice (or white grape juice)

2

tablespoons orange blossom water (do not omit)
1⁄4 teaspoon cinnamon, to taste (original recipe specified 1 teaspoon) or 1⁄2 small whole cinnamon stick
ice cube
of fresh mint, for garnish
Mix together everything except for the ice cubes and mint.
Chill and when ready to serve pour the juice over ice cubes and garnish with fresh mint leaves.