Debbwl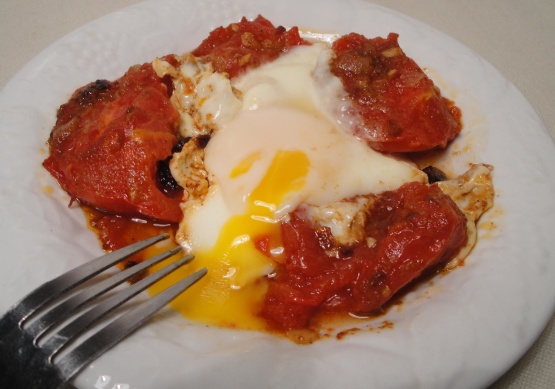 I stumbled across this at recipehub.com. Moroccan eggs are great for vegetarians. The recipe is easy to prepare, nutritious and tasty as well! This is best served with bread.

Top Review by Debbwl
Yummers! It is a good thing I cut this down to serve one or I would have over eaten as every bite was savored and the plate licked. I really liked the kick from the cayenne pepper. This is a great meal for anytime of the day, thanks for the very tasty post.
Blanch the tomatoes in boiling water and peel off the skins carefully. Cut them into quarters and de-seed them.
Heat the garlic, green onions|spring onion and cumin in a frying pan with hot oil. Stir for a few minutes until they start to brown.
Add the tomatoes, cayenne, salt, pepper and granulated sugar|sugar and simmer for 15 minutes, less if the tomatoes start to fall apart.
Crack an egg in each quarter of the pan, spreading the whites carefully with a fork so they cover the surface of the tomato mixture.
Simmer for a further 2 minutes, or until the eggs are cooked how you like them.