Moroccan Crock Pot Tajine
Um Safia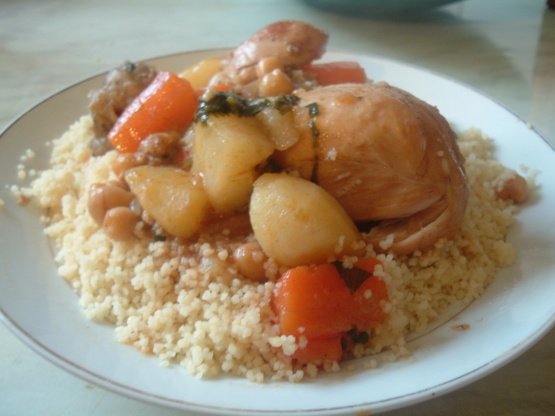 In Morocco, tajines or stews are made in a shallow earthenware cooking pots called tajines. In this version, use a crock pot to produce a mellow yet intensely flavoured meat and vegetable melange with a tender texture and enticing aroma. First published in Chatelaine's 10/2000 issue.

This was really, really good. Took me right back to my first tajine experience in Morocco. My husband is wary of new flavor combos but really liked it. The kids even ate it (OK, there was dessert on the line...). Definitely a keeper in our recipe book! We tried with the beef but will try other combos too. Makes a ton, we had leftovers for several days. We cooked up two boxes of couscous for this and ran out of couscous first -- next time I'll make 3 boxes.
Thaw lamb.
Trim excess fat from lamb or beef, then cut into large bite-size pieces.
If using chicken thighs, leave whole.
Mince garlic and thinly slice onions.
In a crock pot or other slow cooker, stir garlic with onions, cumin, paprika, ginger, cinnamon, allspice, salt, chili flakes, carrots, squash, broth and olives, if using.
Add meat.
Cover and cook on high heat for 5 hours or on low for 9 to 10 hours.
Stir in chickpeas, if using, during last 15 minutes of cooking.
Serve over couscous or with crusty bread.
Covered and refrigerated, tajine will keep for at least 2 days and can be frozen in an airtight container or resealable freezer bag.