Moroccan Chickpeas With Carrot and Dates
Chickee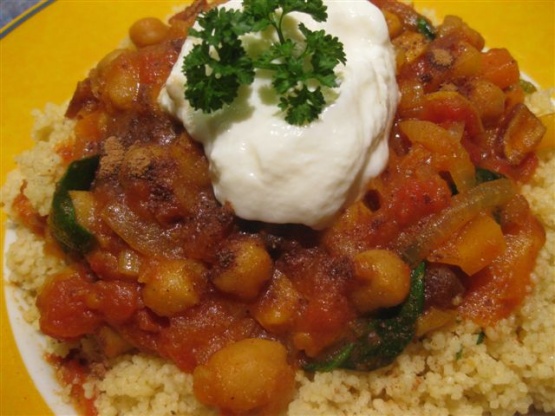 This is based on a chicken recipe from Australian Good Taste magazine but I made it veggo. I have successfully used Chinese red dates in this recipe. The ginger can make it a little spicy if it is very fresh, if required serve with a little good quality yoghurt.

This was by far one of the tastiest, most interestingly textured dish I have ever made! It was delicious - all the flavors melded together wonderfully. The toasted sliced almonds were a great addition. Instead of couscous, I served it on a bed of Quinoa - so good. I used about 2/3 of all the spice amounts you put, which was enough but I probably could have done the whole amount. Well done.
Preheat oven to 180°C.
Spread the almonds over a baking tray. Bake in oven for 4 minutes or until toasted. Transfer to a heatproof bowl. (You can also toast these in the microwave if preferred).
Heat oil in a deep frypan or wok over medium heat. Add the onion, garlic and carrot, and cook, stirring occasionally, for 5 minutes or until the onion is soft. Add the cumin, ginger and turmeric, and stir to coat and toast the spices.
Add the stock and tomatoes. Bring to the boil. Add the chickpeas and dates. Simmer until the sauce thickens to desired consistency and carrots are cooked, about 10-15 minutes.
Roll up the spinach leaves and slice finely, and add to the tagine, allowing it to wilt. Stir in the honey and lemon juice/citric acid. Season with salt and pepper as required.
Divide the tagine among the serving dishes (on cous cous if desired). Sprinkle with almonds and cinnamon. Top with coriander to serve.