Prep 10 mins
Cook 45 mins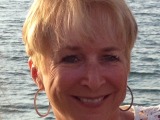 Clipped from the AJC, this recipe is from Cafe Intermezzo in Dunwoody, GA. A hint of cinnamon and cumin gives this simple soup its exotic aroma. Instead of adding the spinach to the pot, Chef Todd Wilczewski likes to add it to each bowl and pour the hot soup over it, just to wilt it. Note: for a slightly thicker base and to help the flavors meld, puree about a third of the soup in a blender and then return it to the soup pot.
Directions
In a large pot, heat olive oil over medium-high heat. Add onion, garlic, cinnamon, paprika, cumin and cayenne. Cook, stirring occasionally, until onions are translucent, about 5 minutes. Add tomatoes, chickpeas, vegetable broth and sugar. Simmer for 45 minutes. Season to taste with salt and pepper. To serve, divide spinach among 6 serving bowls. Ladle hot soup over the spinach and serve immediately.
Reviews
Most Helpful
This was very good soup, it tastes much better than it looks. The cinnamon is evident, making it a tad exotic. I did use my immersion blender and puree some of it. A tasty, easy soup. I like it! Made for 3 Chefs Challenge November 2009.