Annacia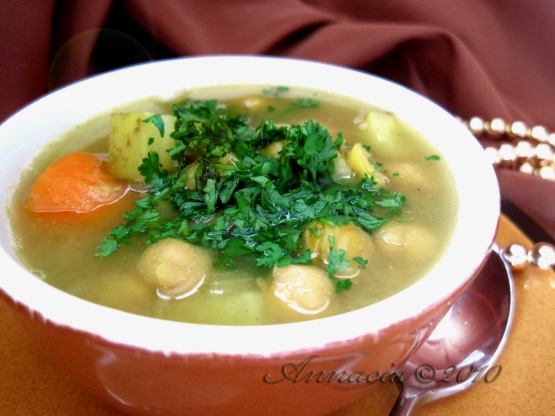 From the cookbook Mediterranean Light by Martha Rose Shulman. Martha compares this soup more closely to an Indian curry unlike its milder European cousin. I sometimes substitute lamb stock for the water which gives the soup even more richness. If you choose to use lamb stock you'll probably want a soothing cup of mint tea later. Harissa is prepared easily and cheaply at home and there are several good recipes for it on this site.

I absolutely loved this soup! I didn't add harissa but rather some dashes of tabasco sauce into my own bowl and I thought the kick it added was wonderful as well as the lemon juice. I also put in 2 tablespoons of olive oil to add body to the soup a little ground coriander as I can't get fresh. Unfortunately my hubby and kids didn't like it at all (they are not fans of Moroccan cuisine) so I will have to give it 4 stars overall. Thanks for the recipe.
Soak the dried chickpeas overnight and drain or if using canned chickpeas, rinse and drain thoroughly.
Combine the chickpeas with all the other ingredients except the salt, lemon juice, and cilantro and bring to an almost boil.
Reduce heat and simmer partially covered, for 1 1/2 hours, until the beans are tender, less time if using canned chickpeas. Add salt to taste.
Remove 2 cups of the soup mixture and puree in a blender, return to the pot and mix well.
(Or use an immersion blender to facilitate.).
Just before serving, stir in the lemon juice and garnish with fresh cilantro.
Adjust seasonings.
The soup will keep in refrigerator 3 to 5 days.
Freezes well.