Bobtail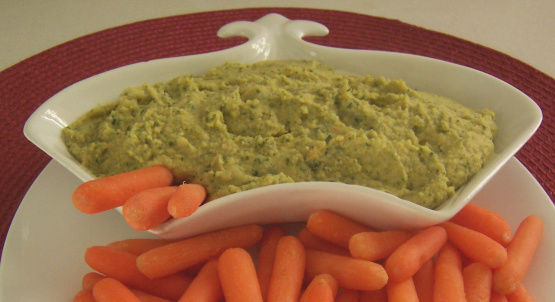 No need to feel guilty about snacking on this dip!! It's great!! I snagged it off a recipe card and I like the fact that the hot sauce eliminates a need for loads of salt.

Top Review by Mia 3
This looks fantastic, I'm going to give it a try tomorrow night as I'm having friends over. I just cilantro I always have it handy in my garden, its a must around my house. Looks like a very interes- ting combination, I'm sure I'll love it, thanks for posting.
In food processor process garlic until minced.
Add cilantro and process until finely chopped, 10 - 20 seconds.
Add chick-peas, lemon juice, olive oil, salt and hot sauce.
Process until very smooth.
Place dip in serving bowl and refrigerate until chilled and ready to serve.
Serve with veggie slices, pita wedges, fat free pretzels or other chips.