Moroccan Chickpea and Vegetable Stew with Couscous
Amy020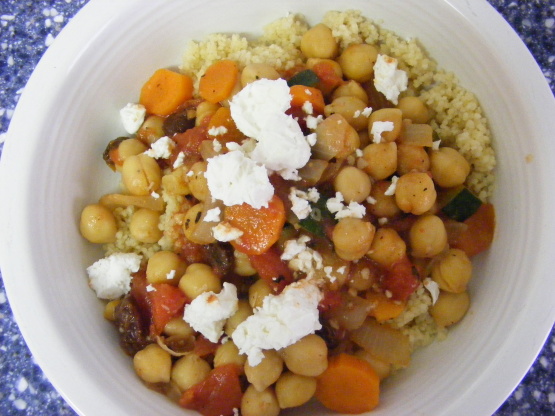 This is delicious stew. Very flavorful from the spices, but not too spicy, just right. There is no meat in it, and you most likely won't miss it, as the chickpeas are very "meaty" themselves. But I don't see why you couldn't add some meat if you really wanted to. It also goes from prep to table in about 30 minutes, great for weeknight dinners. From Cooking Light.

Oh, AND I left out the raisins...it's personal taste. I prefer savoury.
Heat the oil in a large skillet on medium high heat.
Add the zucchini, onion, carrot and garlic.
Saute 5 minutes.
(For a time-saver, use the matchstick carrots from the produce department) Stir in the broth, and the next 9 ingredients, and bring to a boil.
Cover, reduce the heat, and simmer for 8 minutes or until tender.
Stir occasionally.
While the stew simmers, bring the 1 1/2 cups water to a boil, stir in couscous, and remove from heat.
Cover and let stand for 5 minutes.
Serve stew over couscous.