Moroccan Chickpea and Eggplant (Aubergine) Stew
Nancy B.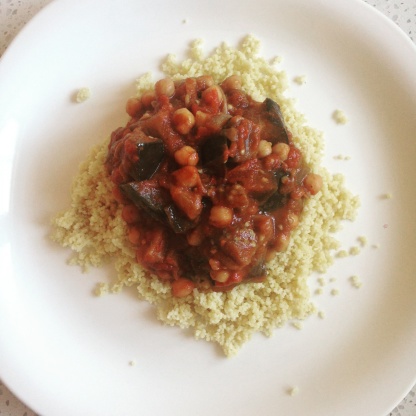 Found this on another recipe website when I was searching for chickpea recipes. Love this - make it regularly and have passed it on to numerous friends and family. Is gluten-free if served on rice. Only requires 1 fresh ingredient (my basic criteria) and can be sized up and frozen with great success. It seems very similar to Ciao's #66380 which I will have to try soon.

Entire family loved this (including one very picky eater). I didn't have chilli powder so added a pinch of chilli flakes and about 1 teaspoon of a mixed curry powder. Came out really great tasting. To satisfy the meateaters in the house I diced some chicken breasts up and marinaded in a tablespoon of plain yoghurt and Harissa paste, placed the chicken on top of the stew to steam through about 20 minutes before serving.
Cut off the ends of the eggplant, than chop into ¾" cubes. I salted an eggplant once just for fun, but with fresh eggplant just don't find it necessary!
Chop the onion roughly.
Mince the garlic.
Coat a large deep-sided frypan with olive oil. and heat over a medium heat.
Add the minced garlic, onion, chili powder, cumin and cinnamon. Stir well to coat evenly. Cook until the onions have softened (approx. 4-5 minutes).
Add the eggplant, tomatoes and chickpeas, along with the stock. Simmer over medium-low heat, covered, for fifteen-twenty minutes (until the eggplant is tender).
Uncover and stir. If the stew looks very soupy, let the liquid bubble away for a few more minutes.
Salt and pepper to taste.
Serve over rice / pasta / cous cous / even toast would be yummy.
The qty of spice listed make it moderately hot - good for a taste explosion for someone not used to spices. I normally double them as I like things really spicy!