Moroccan Chicken with Preserved Lemons
L. Duch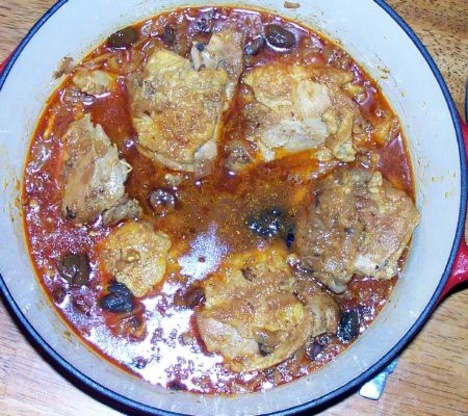 Submitted in response to a recipe request by Friedel.

This has got to be one of the best dishes I have ever tasted! I changed the onions to shallots, and my preserved lemons were Meyer lemons, and I used a cut up chicken so that those who like only white meat could have it. But everything else was as is here, and it is beyond marvelouw! As a friend of mine says, "It tastes like more!", as in "I want more!"
Pour oil into a 10-12" frying pan over medium-high heat.
Add chicken and turn pieces often to brown on all sides, about 15 minutes.
Lift out chicken and set aside.
Remove all but 1 tablespoon oil from the pan.
Add the onion, stir often over medium-high heat until tinged with brown, about 5 minutes.
Stir in paprika, ginger, turmeric, and pepper.
Add 1 cup water, chicken, olives, 6 preserved lemon quarters, and 1 tablespoon preserved lemon liquid.
Cover pan and simmer, turning once, until meat is no longer pink at the bone (cut to test), about 20-25 minutes.
Skim and discard fat.
Transfer the chicken and sauce to a wide bowl.
Garnish chicken with remaining lemon wedges and cilantro.
NOTE: For less sodium, use ripe olives instead of calamatas.