Moroccan Chicken With Apricots
ImPat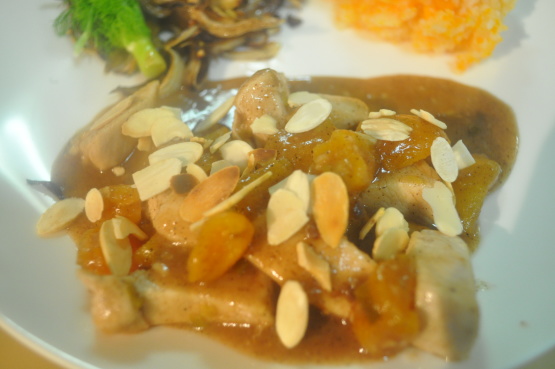 This is great served over coucous or rice. The original recipe calls for prunes but I prefer apricots.

Top Review by ImPat
I used 600 grams (2 chicken breasts) for 3 of us and was left with left overs (I would normally have used only about 450 grams hence the left overs) and cooked as per recipe, the DM and DS thoroughly enjoyed with them both having a small second serving, for me I found it too sweet and thought that I would prefer to cook a small breast and serve the sauce over that, though as is would be good over rice or couscous. Thank you Queen Dana, made for Make My Recipe - Spring Edition.
Chop the chicken into bite size pieces and salt and pepper.
In a heavy skillet heat oil and saute chicken in oil until brown and cooked through.
Remove chicken from skillet and keep warm while you make the sauce.
Add onions and garlic to the skillet and saute.
Add flour, cinnamon, cumin, and ginger to skillet and mix well.
Whisk in chicken broth.
Stir in apricots, lemon juice and honey.
Boil sauce for about 5 minutes or until the sauce is thick enough to coat a spoon; while the sauce is boiling occasionally stir to prevent burning it.
Coat the chicken with the sauce by either mixing the chicken back into the skillet or mixing both chicken and sauce into a serving dish.
Sprinkle with toasted almonds.