Moroccan Chicken Thighs With Chickpeas and Raisins
jadique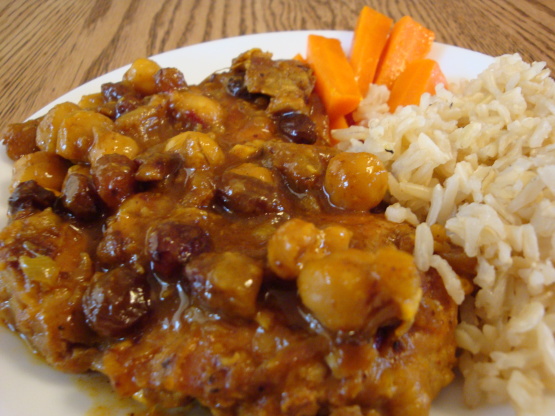 If you love foods with flavor then you will love this recipe! the spice amounts are only a guideline you may adjust to taste, this will work well using any part of the chicken :)
So delicious! I would change nothing, but I did use dried chick peas, 1/2 cup, and soaked them overnight, adding them at the same time with the chicken and they were cooked by the time chicken was cooked. Also, at the end of cooking time I added some couscous in the pot to absorb the lovely juices, resulting a tagine like dish. Very very good and simple as well and the whole meal in one pot.
In a large heavy saucepan (I use my electric frypan for this) heat oil over medium heat.
Season the chicken with salt and pepper the brown well on both sides; transfer to a plate.
Add in onions and garlic; saute for about 5 minutes, then add in cumin, turmeric, paprika and cinnamon; cook stirring with a wooden spoon for about 1 minute.
Stir in broth, honey, lemon zest and flour; stir to combine.
Then add in the browned chicken; simmer covered for about 15 minutes.
After 15 minutes of cooking add in the raisins and continue to cook (UNCOVERED) until the chicken is completely cooked through (about 15-20 minutes).
Season with salt and pepper.
Remove the chicken to plate/s.
Add in the chickpeas and simmer for 5 minutes.
Pour the sauce over the chicken and serve with cooked rice.