Parsley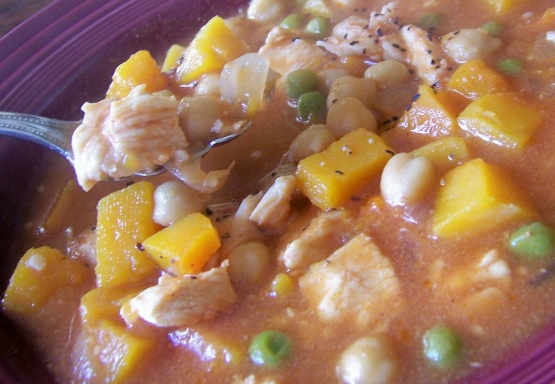 This chicken stew has an exotic, complex flavor. Serve this sweet and spicy dish over couscous or rice, or with toasted whole wheat pita bread, to soak up all the juices!

What a great recipe! It was extremely easy to make and very flavorful. The spice blend used is fabulous.
In a 4 to 5 quart pot, whisk together the chicken broth, tomato paste, cumin, salt, red pepper, and cinnamon until blended.
Stir in the raisins, onion, garlic, squash, peas, chick-peas, and chicken.
Bring to a gentle boil over medium-high heat.
Reduce the heat to low.
Cover and simmer for 25 to 30 minutes, or until the squash is tender and the chicken is opaque near the bone and the juices run clear when the meat is pierced with a sharp knife.
Enjoy!