Moroccan Chicken Salad for a Starry Night
Debbwl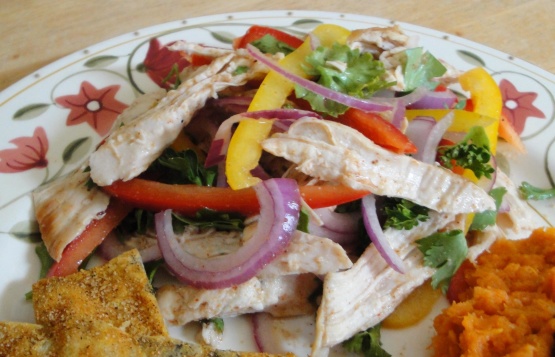 Did you know sky watchers have observed meteor showers every August 11th, since A.D. 830? It is thought to originate in the constellation Perseus. Its peak arrives punctually every year so many consider this "The Night of the Shooting Stars". A wonderful night to have a star-gazing party! Here is a super salad to start it off! Adapted from Great Good Food by Julee Rosso.
Roast, broil, or poach the chicken breast. When it cools, bone and skin it and shred the meat into bite size pieces.
In a bowl, combine the chicken, bell pepper, and onion. Chill, covered.
Mix the cumin, cayenne, paprika, and garlic. Whisk in lemon juice, vinegar, broth, and olive oil.
Stir in the cilantro, parsley, and salt and pepper to taste.
Remove the chicken from the refrigerator and pour the vinaigrette over and toss. Garnish with olives. Enjoy!