Derf2440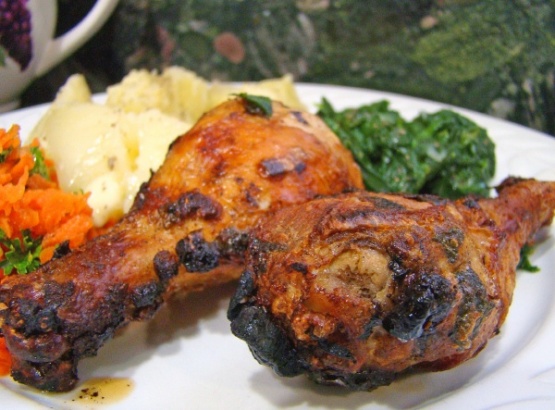 From "Everyone Loves Chicken" by Weight Watchers. I borrowed my friend's book and I'm posting what sounds interesting for future reference. This is 5 points for each leg.

May 25/09 Good but seemed to be lacking something. I will make it again but I think I would add more mint, it seemed to be lost in the other spices. Maybe cus I used fresh mint from the garden about 2 tablespoons. The cumin and ginger seemed to take over. I marinated for about 8 hours. We did enjoy it and the timing on the grill was about right, mine took 12 minutes. Thanks for posting. April 27/10 - made it again but this time I cooked in the oven under the broiler, turned out great! Really like th minty flavour.
Combine the garlic, scallion, oil, orange zest, mint, cumin, paprika, ginger and cinnamon in a zip-close plastic bag.
Add the chicken and squeeze out the air and seal the bag.
Refrigerate, 4 hours to overnight, turning the bag occasionally.
Spray the grill with nonstick cooking spray and prepare the grill to medium-hot.
Lift the chicken from the marinade and sprinkle with salt.
Discard the marinade.
Place the chicken on the grill and cover the grill until an instant read thermometer reads 180°F when stuck in the thigh, about 12-15 minutes per side.