Moroccan Chicken and Lentils
J-Lynn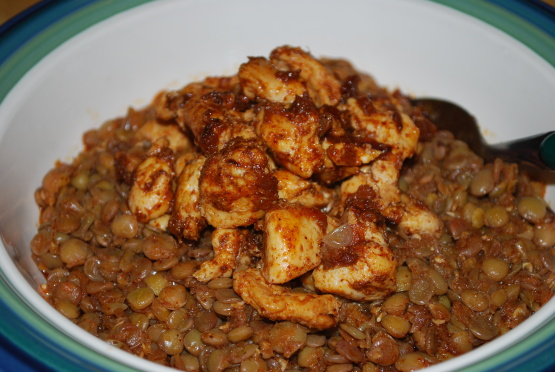 I clipped this recipe from the January 2004 Bon Appetit, and just got around to trying it... we absolutely loved it and I can't wait to make it again. It's really a quick and easy weeknight supper, and it makes the kitchen smell luscious! Since this serves 12, I cut the recipe by 1/4 when I made it (and it fed two happy people), but I'll include the original measurements and serving size here.

Top Review by J-Lynn
Lots of flavor, but really needs tweaking so I can't give it too many stars. The oil in the dressing is much too much; I decreased it and could still actually TASTE it on the lentils. I think I'd try 1/2 cup next time, but then also decrease the vinegar a bit so it's not overpowering. I had too much dressing for the lentils anyway. I did reserve some as written, but didn't pour it over everything at the end- didn't need it at all. Also, as others have said, the salt needs to be decreased on the chicken, and the lentils are better served warm. This recipe has an interesting tangy spiced flavor. I don't know if I'll try again or not...
Combine 8 cups water and 1 teaspoons of the salt in a heavy large saucepan over low heat.
Add the lentils and bring to a boil.
Cover, reduce heat to medium and simmer about 20 to 25 minutes, or until lentils are tender but not mushy.
Drain, rinse with cold water, then drain well again.
Transfer to a large bowl.
Whisk together the 1 cup of olive oil, red wine vinegar, cumin, chili powder, garlic and salt; pour 1 cup of this dressing over the warm lentils and toss gently.
Allow to cool.
In a large skillet,heat 2 tablespoons olive oil and saute onions until dark brown and soft, about 5 to 10 minutes.
Add chicken and saute 2 minutes.
Add 1 teaspoons salt, the cumin, chili powder and cinnamon.
Saute until chicken is cooked through, about 5 more minutes.
Arrange lentils on a large platter and place sliced chicken on top.
Drizzle with remaining dressing and sprinkle with the fresh parsley.