Moroccan Chicken and Barley Pilaf
Annacia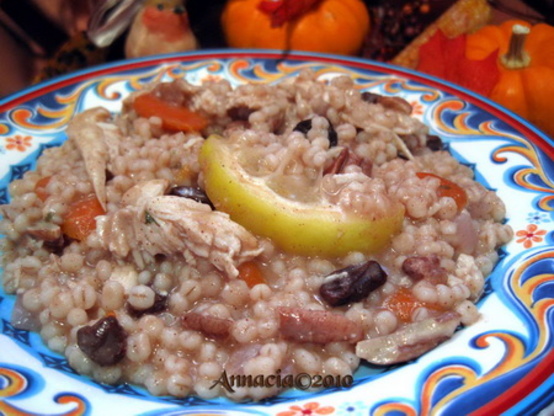 I really loved this recipe. I had no tomatoes at all in the house so they had to be skipped but the remaining ingredients came together beautifully. Having said that I must also say that I didn't feel that way until the lemon was added. Each taste before that kept saying "there's something missing". I resisted adding salt or anything else and with the lemon addition it suddenly sparkled and was wonderfully complete. This is very substantial and I'm not sure that I'd want it in the summer but it sure did hit the spot on this Oct evening.
In a large saucepan, sauté onion and carrots in olive oil over medium heat for about 5-10 minutes until onion begins to soften.
Add garlic, cinnamon, cumin, and barley; stir to coat.
Add chicken broth, sherry, and bay leaf. Bring to a boil, cover pan, and reduce heat to simmer for about 40-45 minutes, stirring occasionally, until liquid is absorbed.
When barley is nearly done, heat butter in skillet. Add chicken, cherry tomatoes, apples, pecans, raisins, lemon zest, lemon juice, salt and pepper. Sauté 5 minutes until heated through.
Mix with barley.
Serve with lemon wedges.