JustJanS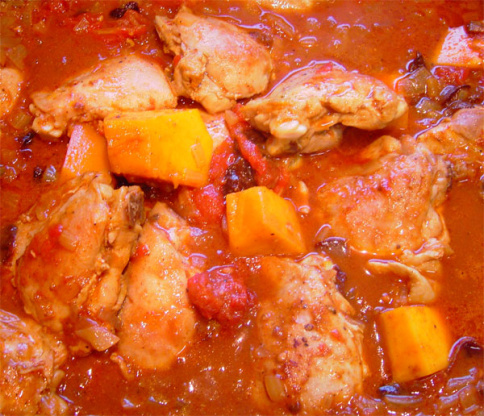 This is something I made to go with JanS Spice Mix. I have to mention Iain Hewiston and Claudia Roden who helped me make up this recipe as I took ideas from both of them as well.

Loved it! I did use a good greek yogurt, because I had some which was really thick. But wouldn't change a thing. I did serve with a garlic couscous. OK, I cheated Boxed ... Near East had some on hand. Normally I would use a bigger couscous grain, but this was at home. Still, very very good. I saved it. I like it as a nice change but chicken stew or baked chicken. I also like all the flavors. I garnish with mint (don't yell at me), the only herb that didn't die in our cold snap (and I even took a pic) instant camera, my camera got sent back to Cannon, USA, so I don't have the pic yet. Very very nice dish. HAPPY CAMPER HERE!
Heat olive oil in a large saucepan over medium high heat.
Sprinkle chicken with salt and pepper add to skillet and brown about 5 minutes per side.
Transfer chicken to plate.
(you will have to do chicken in batches so as not to crowd the pan too much) Pour off all but a thin film of fat from the pan.
Add the onions and reduce the heat and cook the onions until very tender and beginning to brown about 10 minutes.
Add the pumpkin and cook for further 2 minutes.
Add the spice including saffron and stir until quite fragrant, about 1 minute taking care not to burn.
Add the chicken, chicken stock, cinnamon stick, tomatoes, prunes and honey, lemon juice.
Cover and simmer for about 30 minutes until chicken cooked.
Take out the chicken, keep warm simmer the sauce without lid for about 10-15 minutes until thickened.
Serve with couscous or rice.
Sprinkle with couscous and add a dollop of yoghurt.