Rita1652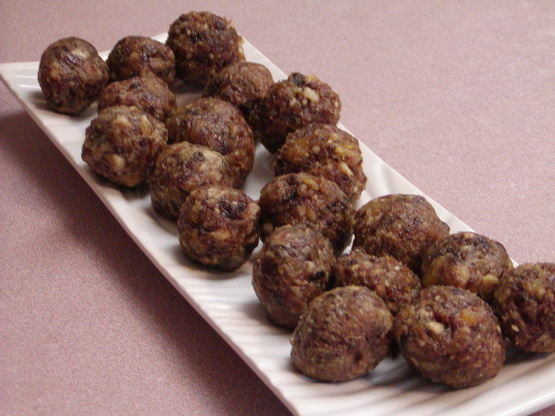 These charoset balls are part of the Moroccan Passover tradition and are scooped up with romain lettuce at the seder. I received this recipe as part of a women's seder. The recipe can originally be found in the "Jewish Cooking in America" cookbook. Cook time does not include refrigeration time. Yield should be 3 1/2 C (system won't allow me to enter that). I have been told that there is no such thing as a sweet red wine (excepting the Mogen David line) and to use a zinfandel as the closest substitute.

A very sweet treat! A bit to sweet for me. in place of the golden raisins I used dried Apricots. For the wine I used sweet sherry. My processor had a hard time with these. I seggest making half at a time.This is a good way to boost your energy level. Well it`s not a bad recipe just to sweet for me.
In food processor, process dates, raisins and walnuts until mixute is finely chops and begins to stick together.
Add wine until mixture becomes sticky.
Drop rounded teaspoonfuls onto wax paper lined baking sheet.
With moistened hands, roll each mound into a hazelnut-size ball.
Refrigerate at least 3 hours.