Moroccan Cauliflower Soup
MA HIKER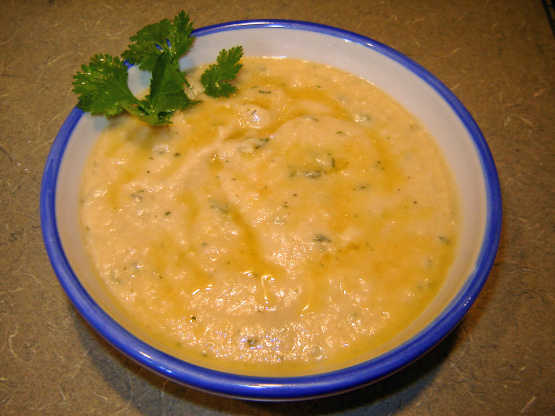 Recipe by Debi
A soup bursting with flavour adapted from Food & Wine magazine.
Awesome soup... was looking for a recipie to use up a head of cauliflower with ingredients I had on hand. I did use garam masala instead of coriander since I didn't have any. Had it for dinner with a couple slices of homemade whole wheat bread.. Very nice for a soup for dinner or meatless night.
In a large saucepan, melt 2 Tbsp of butter in the olive oil. Add the onion and garlic and cook over moderate heat, for about 5 minutes, until softened.
Add the cauliflower and coriander and season with salt & pepper. Cover and cook for 5 minutes, stirring occasionally.
Add the stock and bring to a boil. Cover and simmer over moderate heat until cauliflower is softened; about 15 minutes.
Puree the soup in a blender or with an immersion blender until smooth.
In a medium bowl, whisk the egg with the cornstarch. Whisk in the yogurt. Whisk the mixture into the soup and bring to a boil over moderate heat, whisking constantly until slightly thickened; 2 - 3 minutes.
Season with salt and pepper and stir in the chopped cilantro.
Meanwhile, in a small skillet, melt the remaining 2 Tbsp of butter. Cook over moderate heat, swirling the pan occasionally until the butter is fragrant and starting to turn brown, about 5 minutes.
Ladle the cauliflower soup into individual soup bowls and drizzle the brown butter on top. Sprinkle with crushed red pepper and serve immediately.