Prep 20 mins
Cook 20 mins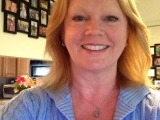 This recipe comes from the Bon Appetit Test Kitchen. Found on my search for ZWT recipes.
Directions
Melt butter in large saucepan over medium-high heat. Add onion, saute 2 minutes. Mix in carrots. Add broth, bring to a boil. Reduce heat, cover and simmer until carrots are very tender, about 20 minutes.
Stir cumin seeds in small skillet over med-high heat until fragrant, 4-5 minute. Cool and then finely grind in spice mill.
Remove soup from heat. Puree in batches in blender until smooth. Return to same pan. Whisk in honey, lemon juice and allspice. Season with salt and pepper.
Ladle soup into bowls. Drizzle yogurt over, sprinkle generously with cumin.
Reviews
Most Helpful
This soup is very yummy with the topping or without. For my son, it's better without. For me I used fat free sour cream on top and cumin seeds. Thanks DeeVaFoodie :) Made for your win in Bargain Basement tag game
I loved this though DD was not a fan but she is not big on carrots at the best of times !! I did stir a tiny bit of diced bacon through this and put some toasted cumin seeds on top. I am looking forward to another serve tomorrow ! Made for ZWT 6.