PaulaG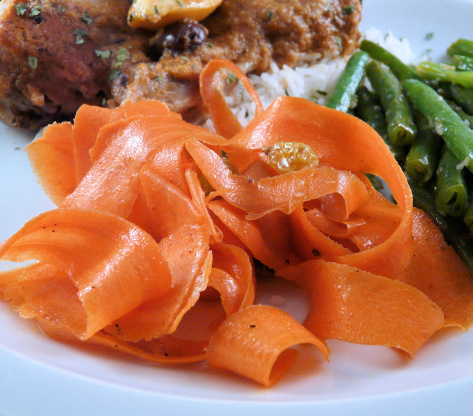 This is adapted from Claudia Roden's "The New Book of Middle Eastern Food". I was pleasantly surprised by the flavor combos. It tastes like a very fresh carrot cake without all the work...and it's healthy!

If I could give this more than 5 STARS for presentation, I would ~ When this dish of ribboned carrots is finished it looks OUTSTANDING! Being the raisin person that I am, I added more! HOWEVER, another time I'd like to use dried cranberries instead of the raisins, just to see who it'd taste ~ or half cranberries & half golden raisins for the yellow, orange & red colors! Anyway, thanks for posting this very nice recipe!!
If you wish you can soak the raisins in fresh orange juice for 15 minutes first. Then drain.
Mix all ingredients together in a bowl.
Let sit at room temperature for at least 1 hour for best flavor.
Refrigerate leftovers.