Ambervim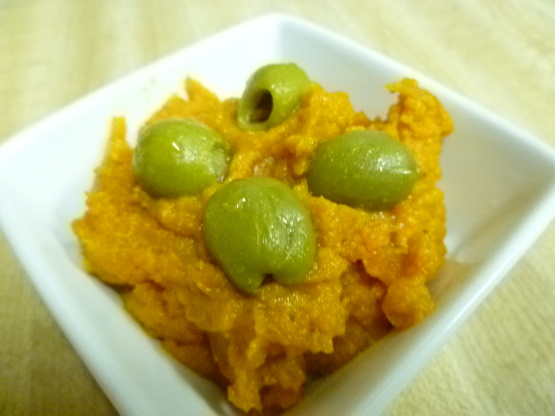 This unusual, sweetly spiced, Moroccan Carrot Dip is wonderful served with olives and warm flat bread for dipping. From a recipe by Jill Dupleix.

This was delicious! I made it for a party so I left out the olives, in case some people didn't like them, and I subbed dried cilantro because i didn't have fresh. It was gone quickly! Incidentally, I make my own baby food and could never get my youngest to like carrots as the older too did....On a whim, I gave hime some of this while I was prepping for the party...he sucked it down. I'm making a DOUBLE batch today!
Cook the chopped carrot and garlic in simmering, salted water, for about 20 minutes or until soft.
Drain well, then return them to the hot, dry pan for a minute or two, over medium heat, to dry them out further.
Tip the carrots and garlic into the food processor bowl, and process until smooth.
Add the cumin, paprika, ginger, cinnamon, cayenne, sea salt, honey and lemon juice and whizz again.
With the machine still running, add the olive oil gradually.
Allow to cool.
Spoon into a serving bowl, drizzle with a little extra olive oil, scatter with olives and cilantro leaves, and serve with lightly warmed flat bread for dipping.