Pneuma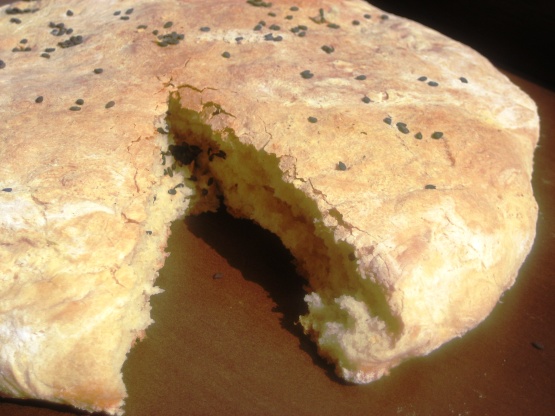 From the Food and Cooking of Spain, Africa and the Middle East, posted for ZWT3. Especially good for serving with tagines or stews with lots of liquid that needs sopping up. I'm sure it would work well made with all white flour instead of the white/whole wheat blend. Prep time includes rising time.

Just pulled these 2 lovely loaves out of the oven about 20 minutes ago. I cut DH and myself each a wedge, and they are really wonderful. They went together quickly and easily. I served it with "recipe #166836". Will definately make this bread again. Thank you for sharing. I made this for the Healthy Choices ABC tag.
place the warm milk mixture ina small bowl or glass measuring cup, stir in the sugar and then sprinkle with the yeast.
stir, then set aside in a warm place for about 10 minutes, till frothy.
in a large bowl, mix together the two flours and salt.
add the yeast mixture and enough warm milk and water to make a fairly soft dough.
knead into a ball and knead on a floured surface for 10 minutes, adding as much flour as necessary to make an elastic dough.
divide the dough into two equal pieces and shape into flattened ball shapes.
place on floured baking trays and press down with your hand to make round breads about 5-6 inches in diameter.
cover with oiled plastic wrap or a clean damp cloth and set aside in a warm place for 1 - 1 1/2 hours, till risen.
the breads are ready to bake when the dough springs back if gently pressed with a finger.
preheat the oven to 400.
sprinkle the loaves with the sesame seeds and bake in the oven for 12 minutes.
reduce heat to 300 and continue baking for 20-30 minutes till they are golden brown and sound hollow when tapped underneath.
serve warm.