JustJanS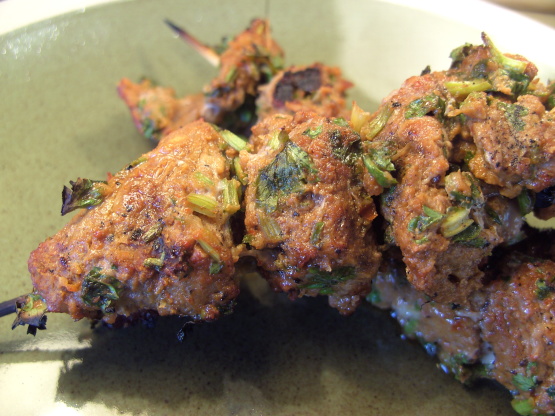 These kabobs are so full of flavor from the marinade of herbs and spices! I especially like the flavor the Thai red chili paste gives the steak. I marinate these overnight, and serve it with couscous and a seasonal green vegetable. NOTE: the preparation time does not include the time for marinating.

Sensational thanks TasteTester! I made a couple of small changes-no oil in the marinade and Harissa (a Moroccan chilli paste) rather than the Thai one asked for. We just love, love, loved the finished dish. I made flafels, a burghul-free tabbouleh, my own flatbreads and served all this with natural yoghurt. Yum.
In a large resealable plastic bag, combine the parsley, cilantro, onion, lemon juice, oil, cumin, coriander, paprika, vinegar, ketchup, garlic, ginger, chili paste, salt and pepper; add beef. Seal bag and turn to coat; refrigerate for 8 hours or overnight.
Coat a grill rack with cooking spray before starting grill. Drain and discard marinade. Thread the beef cubes onto 8 metal or soaked wooden skewers.
Grill, covered, over medium-hot heat for 9-12 minutes, until meat reaches your desired doneness, turning occasionally.