Moroccan Beef & Cauliflower
Nasseh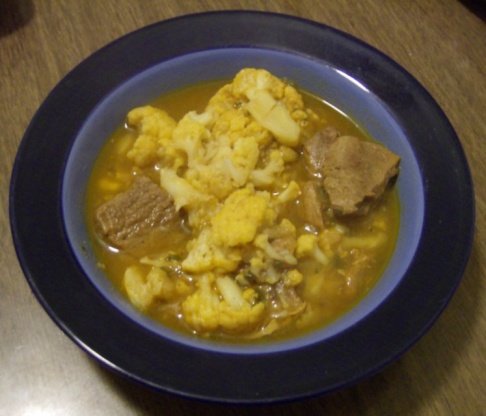 Since marrying my Moroccan husband I have made it my passion to cook dishes from his country. This is one of his favorites.

I thought this was pretty good. although I did it the easy way - doubled all the ingredients, except the cauliflower, threw it in a crock pot, filled pot with water, and cooked on low 6 hours. made a nice soup/stew. I'll make it again. thanks for the recipe.
Pull off the green leaves surrounding the cauliflower. Then cut the bottom off & break the cauliflower into large pieces. Rinse & then place in a bowl to be used later.
Heat the olive oil in either a sauce pan or pressure cooker. Cook the beef in the oil until all the sides are brown.
Add enough water in the pot to cover the beef. At this point put everything into the pot except the cauliflower and cover with a lid. If using a sauce pan simmer the beef for 40 minutes, stirring occasionally. If you are using a pressure cooker, let the beef cook for 15 minutes (after the cooker begins to hiss).
Dip the cauliflower into the sauce to cover all the sides. Once that is done leave it in the pot & recover with a lid. Simmer for another 15 minutes or until the cauliflower is done. If using a pressure cooker, cover & cook for additional 5-7 minutes (after the cooker begins to hiss).