Moroccan Applesauce Cake (Crock Pot)
Prep 20 mins
Cook 3 hrs 30 mins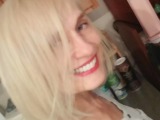 This recipe is based on one from Lou Seibert Pappas' cookbook, Extra-Special Crockery Pot Recipes. She says, "Serve this unusual cake warm with scoops of coffee or chocolate ice cream."
Directions
Prepare a 2-quart pudding mold or 2-pound coffee can by greasing and flouring. Set aside.
In bowl of electric mixer, cream butter and sugar. Add eggs one at a time, beating until smooth after each addition. Beat in vanilla.
In small bowl combine applesauce and soda; stir in to mixer bowl.
Mix flour, cinnamon and salt together. Add to creamed mixture. Beat until smooth.
Mix in chocolate bits, dates (or raisins) and walnuts.
Turn into prepared pudding mold or coffee can. Place in crockery pot. Cover with 4 layers of paper towels. Place crockery pot lid loosely on top to allow steam to escape. Cook on high (300°F) 3 to 3 ½ hours, or until a toothpick inserted in center comes out clean.
Reviews
Most Helpful
This is so fantastic! I actually ended up using all whole wheat flour and half pecans. Tastes AMAZING warm with vanilla ice cream! Made for ZWT 9