Morning Glory Muffins...for the Gym Obsessed
adamwa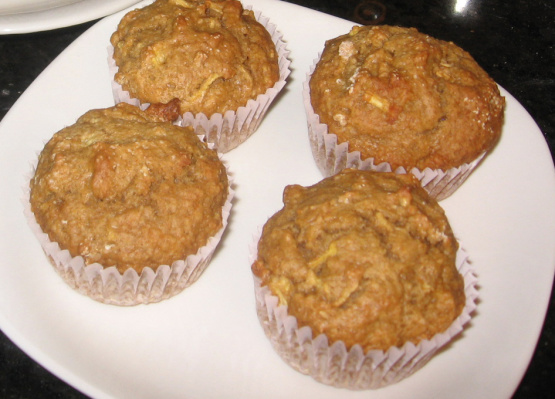 A revised version of morning glory muffins for those of us who pay (too much) attention to what we eat.

hehe! I had to laugh as the description for this muffin fits me to a "T". These are very good -- moist! I am impressed! I love the fact that there is absolutely no butter/oil/margarine in these!!! Since I felt like making them extra holy, I omitted the sugar and used 1/2 cup Splenda, which was just the right sweetness. I also omitted the raisins for personal preference. Oh yes, and I didn't line these with paper; I sprayed the tins. I have noticed in muffin recipes with low fat content that the muffins stick quite a bit to the paper. Thank you, leeners!!!
Preheat oven to 350 degrees F. Grease or line 20 muffin cups.
In a large bowl, whisk together flour, sugar, baking soda, cinnamon, and salt. Stir in the carrots, raisins and apples.
Mash the bananas, either by hand or in a processor.
In a separate bowl, beat together eggs, bananas and vanilla. Stir egg mixture into the carrot/flour mixture, just until moistened.
Scoop batter into prepared muffin cups.
Bake for 20 minutes, until a toothpick inserted into center of a muffin comes out clean.