PaulaG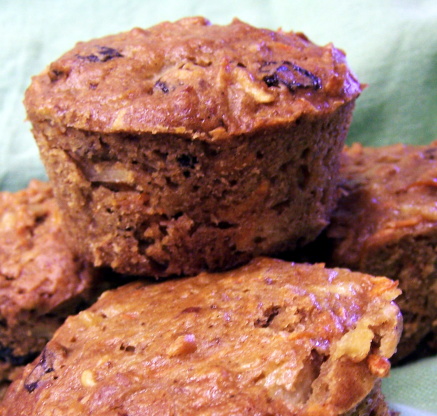 A little different from the other Morning Glory Muffins because it uses apple butter. This is a weight watchers recipe. Each muffin is 3 points.

This morning glory muffin rivals the muffin at my local favorite bakery, Macrina, which is saying A LOT!! It was moist, flavorful, and hearty. I made two substitutions: I used equal part apple sauce for the vegetable oil, and equal part Bob's Red Mill all-purpose gluten free flour instead of regular flour (plus 3/4 teaspoon xantham gum that the GF flour package recommends for muffins). They turned out AMAZING, and I should say for anyone who thinks baking gluten free is hard or tasteless -- Bob's Red Mill products are amazing, and I swear you won't be able to taste the difference!
Preheat oven to 350.
Combine flour, brown sugar, baking soda, cinnamon, and salt in large bowl.
Stir in carrot and next 5 ingredients. Make a well in center of mixture.
Combine oil and next 4 ingredients; stir with a whisk.
Add oil mixture to flour mixture, stirring just until moist.
Spoon batter evenly into muffin cups coated with cooking spray.
Bake at 350 for 25 - 30 minutes or until muffins spring back when touched lightly in center.
Remove muffins from pan immediately; let cool on a wire rack.