Morning Glory Carrot Muffins
Redsie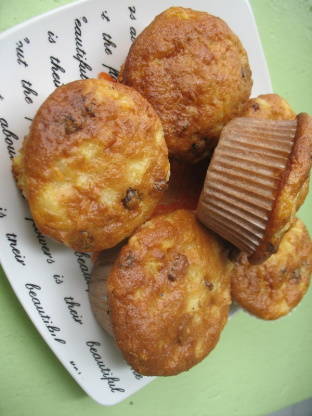 This is a good way to start your morning, get your day going, finish off the day, hey, this is just a good thing to eat any time.

Yummm! These muffins are so good, they (almost) make me eager to get out of bed in the morning :) I added 1/2 cup pecans and 1 tsp. orange extract just because I liked the added flavor. These also freeze well. Thanks for another great recipe, Mirjam!
Preheat oven to 400°F degrees.
Lightly spray 12 muffin cups or line with paper cups.
Stir flour together with baking powder, baking soda, salt, spices and sugar in a large mixing bowl.
Whisk egg in a medium-size bowl with buttermilk, oil and vanilla.
Stir in pineapple.
Pour into flour mixture and stir until just combined.
Stir in carrots and raisins.
Spoon batter into muffin cups.
Bake 15-17 minutes or until a toothpick comes out clean.