More Please! Ground Turkey Casserole
molly24m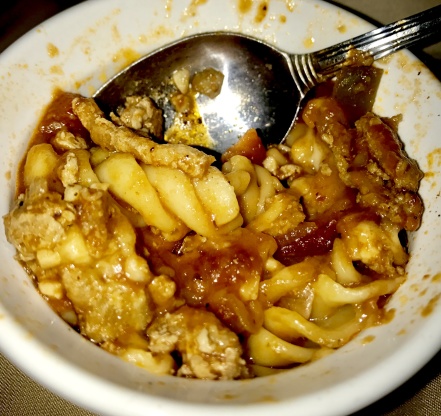 "More, please" is what I always hear from my kids when I make this casserole. I love it because it tastes great and is super easy after a busy day when I don't feel like working very hard on dinner. You can also assemble this casserole the night before (minus the cheese; add it just before baking) and refrigerate until the next evening - just remember to shorten your baking time as the noodles will absorb the liquid overnight - it will only need to bake 25 minutes or so, or until heated through and cheese is melted and golden brown. ** NOTE**Depending on the meat used, you may or may not need the specified amount of oil for saute-ing the meat and vegetables; adjust amount according to your needs.

I used gluten free noodles and only in half of the dish (I don't eat carbs while the rest of the family does). I adjusted the water to 1 1/2 cups b/c of the pasta amount. I used a diced fresh tomato instead of canned and 2 tsp of the seasoning salt. The meal was full of flavor and we will def be making this again!
Saute turkey, onion, green pepper and celery in oiluntil meat is browned and vegetables are tender (but not mushy).
Add salt, oregano, garlic and sugar; add tomatoes, tomato sauce, mushrooms and water.
Simmer 15 minute.
Place uncooked noodles in greased 13x9x2 pan. Pour mixture over noodles. Top with mozzarella cheese.
Bake at 350* for 45 minute Cool 15 minute Serves 8.