More Bananas Banana Bread
Annacia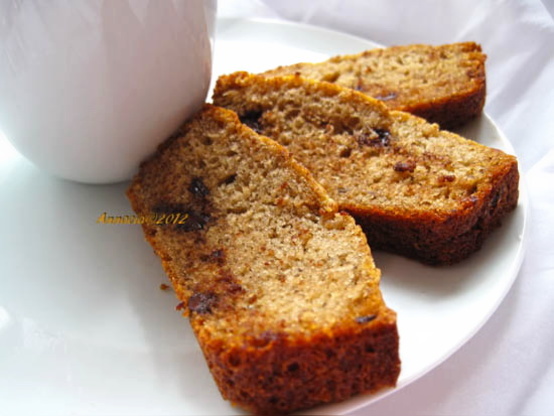 I have lots of banana bread recipes but this one tops my list...great for snacks, for breakfast, and definitely, great for munching while finishing deadline works!

Great tasting banana bread. I made 1/3 if the recipe for one loaf but the volume wasn't enough for a good sized loaf. It would have taken 2/3 of the full recipe to make a single good sized 8x4. That said this has a perfect tender flaky crust and a lovely moist, tender inside. As I was using a glass pan I lowered the temp to 325 and that was well baked @ 40 mins. Used Splenda brown blend for the sugar.
Pam spray 3 or 4 (4 x 8) store-bought aluminum foil pans; set aside. Preheat oven to 350°F Measure flour, baking soda and salt in a small mixing bowl and whisk to aerate; set aside.
In the bowl of an electric mixer, beat together the margarine, oil and brown sugar until light and fluffy. Add the eggs one at a time, beating well after each addition. Add the mashed bananas and flavoring. Add flour mixture to the bananas mixture and mix until just blended; the batter should be slightly lumpy. Fold in chocolate chops.
Divide the batter into the prepared pans. Bake for about 1 hour or until toothpick inserted in center comes out clean. Cool before slicing and cut into thick slices to serve. Enjoy!