More Banana Coconut Muffins
Kim127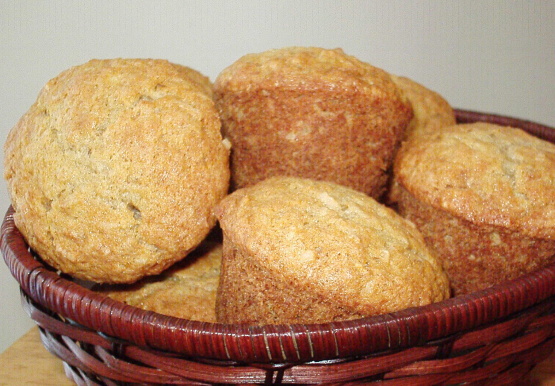 There are a number of similar recipes on Zaar but none just like this one. And gosh knows, we all love our muffins!

I made some changes to make the recipe healthier, but they turned out great! My kids (age 11 down to 18 months) LOVED them. I doubled the recipe. I subbed applesauce as another reviewer suggested (1 cup for the 1 cup of butter I would have needed). I subbed 1 cup prarie gold flour (a whole wheat), 1 cup whole wheat, 1/2 cup flaxseed, and 1 1/2 cups all purpose flour- and I measured scant knowing it would be a bit dry with these changes. I decreased the sugar to 3/4 cup aproximately (yep didn't go anywhere near 2 cups for doubling) but I also added a bit of molasses (that I didn't measure LOL)- probably 1/4 cup or maybe 1/2. I subbed yogurt for the milk. I did 1 Tablespoon cinnamon, omitted the salt entirely, added about 1 tsp of ginger, about 1/2 tsp allspice. Doubled the coconut (but measured scant). baking soda and baking powder were doubled as were the eggs. I just mixed it all together since I didn't have butter to cream with sugar.
Preheat oven to 325°F.
Coat 12 muffin cups with non-stick cooking spray or use paper liners.
Cream sugar and butter until light and fluffy.
Add eggs, one at a time, and mix thoroughly.
In a small bowl, mash bananas with a fork. Add milk, cinnamon and coconut. Add to egg/butter/sugar mixture and mix well.
In another bowl, whisk flour with baking soda, baking powder and salt. Add to wet mixture and stir until just combined. (over mixing yields a tough muffin).
Divide batter equally among muffin tins.
Bake for 30 minutes or until they test done.