Moosewood White Bean and Tomato Salad
dicentra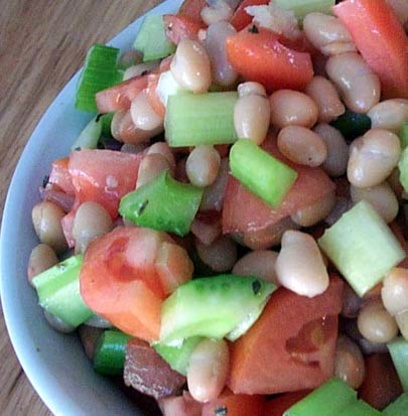 This is one of my favorite Moosewood recipes, and it is so easy! My toddler even loves this recipe. This cold salad is perfect during the hot summer months, and goes great with meals that are cooked on the grill. I find that adding 1 T red wine vinegar makes it absolutely perfect. Moosewood categorizes this recipe as a "Main dish salad" but I prefer it as a side dish. I always omit the celery because it is the one vegetable that I do not like.

I used a few alternate ingredients in this recipe, but it turned out crisp and perfect nonetheless. I halved the recipe, used minced garlic in olive oil, omitted the celery, used fresh basil, and substituted apple cider vinegar. This is a great side item for grilling chicken or seafood. It is also very light.
Combine all ingredients in a bowl. Serve at room temperature.