Moosewood Stuffed Zucchini
Marz7215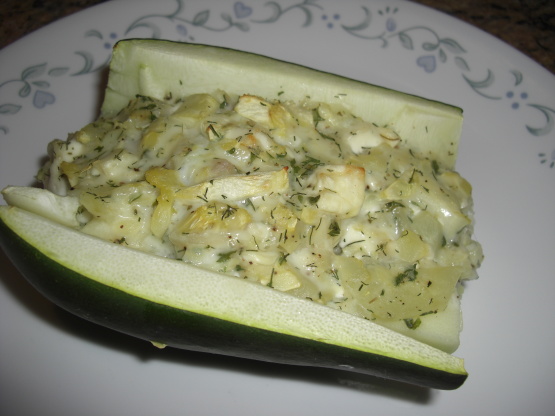 This recipe was given to me by my sister-in-law, Fran. She gave me the recipe when I had an over surplus of zucchini from our garden, and this really hit the spot! Stuffed with two different cheeses (feta and Swiss) and baked inside the zucchini skin this recipe is a keeper. We usually eat the entire thing once baked, skin and all it makes a meal on its own. I have also used mozzarella cheese instead of the Swiss cheese.
Preheat oven to 375°F.
Scoop out the insides of zucchinis to leave 1/2 inch rim. Chop innards into tiny bits and saute in butter with onions and garlic until soft. Salt and pepper to taste. Remove from stove top, set aside.
In a large bowl combine eggs, cheeses, parsley. dill and flour. Drain zucchini and add to the large bowl with egg and cheese mixture. Mix until combined. Fill zucchini cavities and dust top with paprika.
Bake for 30 minutes or until filling solidifies.