Moose-Ahh-Leanie (Moose Roast)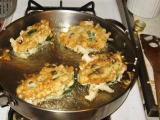 A friend gave me a nice LEAN (hence the name) sirloin moose roast and I developed this recipe to prepare it -- it turned out just great. Other cuts of moose, elk, or deer can be used in this recipe but the sirloin cut is really tops for this particular method. I recommend trimming as much visible fat as possible from the roast prior to marinating. This is a Crock Pot recipe but it can just as easily be roasted in your oven, (see directions.)
Directions
In a long casserole dish, marinate the roast in a blend of the salt, pepper, marjoram, and beer. Cover with cling wrap and refrigerate for 2 hours, turning the roast after 1 hour.
Spray the inside of a large Crock Pot with the cooking spray, (e.g., Pam). If you have one of the older or smaller Crock Pots, you might have to cut the roast in half to make it fit inside.
Lay the potatoes, onions, and carrots in the bottom of the Crock Pot. Lay the roast on top of the vegetables, and include the marinade. Dot the roast with the butter and then add the mushrooms and celery on top of the meat.
In a mixing bowl, whisk together the soup, Worcestershire sauce, and the chicken broth. Slowly pour this blend into the Crock Pot.
Cook on HIGH setting for 1 hour and then reduce the setting to LOW for 7 more hours. Check the tenderness of the meat at the end of this time. You can cook it for up to 2 more hours if necessary but if you are using a sirloin roast, then 8 hours should do it.
Serve hot with crusty bread and a heavy red wine such as Merlot or Chianti.
NOTE: You can leave out the potatoes and serve this dish over cooked egg noodles if desired. Also, this can be baked in the oven in a large casserole dish covered with aluminum foil: 325 degree F. pre-heated oven for 3 hours.
Reviews
Most Helpful
This was great!! I had a friend bring me some moose from alaska. I have never cooked moose,but I have eaten it before. To me this was better than a beef roast in the crockpot. I will def. make again!
This is my first year cooking moose and this recipe is DEFINITELY a keeper! My son and I both really liked it and the veggies are great too! I used a rump roast and it was delicious. I'm not a fan of a super gamey flavor, but this was just enough to appreciate the moose, but not overpowering enough to put me off it. I did omit the celery because it wouldn't have been eaten. Also, instead of an hour on high and then turning it down, I did 9 hours on low because that's what my schedule required. It was fully cooked and came apart easily with a fork. I can't wait for my bf to get home so he can try it too!