Moorish Zucchini Salad - Ensalada De Calabacines a La Morisco
gemini08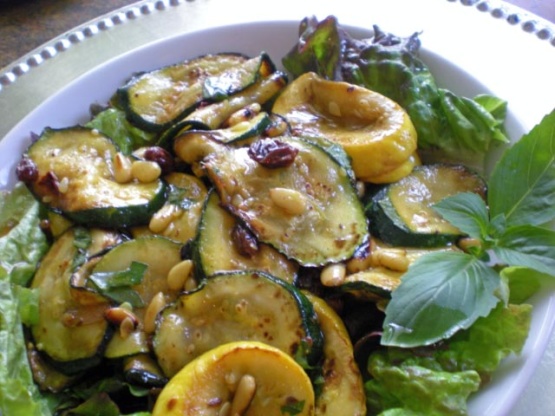 The combination of toasted pine nuts and plump raisins has featured in Spanish recipes since the Moors ruled the Iberian Peninsula from AD 711 - 1492. This versatile chilled salad can be spooned onto bread slices as tapas, served as a first course on a bed of salad greens or as an accompanimenrt for roast chicken as part of a summer buffet. Make this at least 4 hours in advance so the flavors can blend. From the book "World Food SPAIN" by Beverly Leblanc. Cooking time includes chilling time.

This is wonderful! I sliced thinly lengthwise. I like how the zucchini softened but wasn't COOKED through. The flavors come together nicely in the fridge while the raisins plump. We all loved this. Except dh who refuses to eat zucchini. I will definitely make this again because 1, it's fabulous & 2, can be made ahead! Excellent for nasty hot days. Thank you! Made for Zucchini Tag in the Spain/Portugal Forum 5/12.
Heat the oil in a large skillet over medium heat. Add the garlic and then let cook until golden to flavor the oil, then remove and discard.
Add the zucchinis and cook, stirring until just tender. Immediately remove from the skillet and transfer to a large serving bowl.
Add the pine nuts, raisins, mint, lemon juice and salt and pepper to taste and stir together. Taste and add more oil, lemon juice and seasonings if necessary.
Set aside and let cool completely. Cover and chill for at least 3 hours.
Remove from refrigerator 10 minutes before serving.
*Cooks note:.
This salad is best made with young, tender zucchinis no more than 1 inch thick. If using older, larger zucchinis, cut them in half or quarter lenghtwise first, then slice thinly. For a more robust flavor, chop 4 drained anchovy fillets in oil and add in step 2.