Moody's Blueberry-Raspberry Muffins
Linky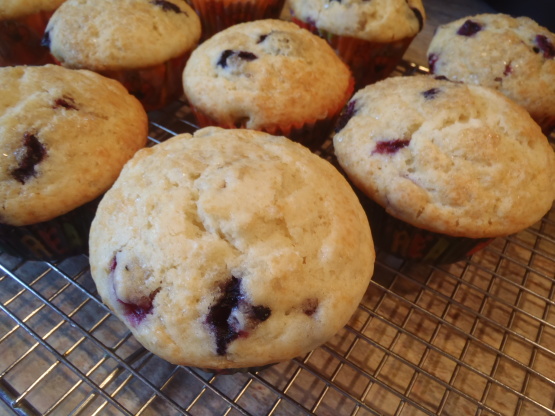 According to "True Blueberry" by Dannenberg, Moody's Diner in Maine is famous for their blueberry muffins among other things. Here is one of their recipes. (I forgot to write sugar in my ingredients list but a reviewer caught my mistake. I got zero stars, so I wonder if the muffins turned out horrible with no sugar or if the reviewer added the sugar as specified in the directions anyway and gave the recipe a zero to reflecte my accidental omission. FYI, when I made them myself, they were very good! Note sugar is now in the ingredients list! )
I kind of hated the recipe. I'm not trying to hate, just tell you to look somewhere else. These muffins were WAY to bland and extremely dense. Muffins should be cakey and delicious, but these tasted like a good muffin that got squished. The problem is not that I didn't bake them enough, I tested them and no goop came off so I tried one but it tasted battery. I put them in for 2 more minutes, same thing. I kept going until they'd been in the oven a total of 36 minutes, at which point they burned but still tasted battery. I do NOT recommend this recipe.
preheat oven to 375 degrees F.
grease a standard 12-hole muffin tin.
Sift 2 1/4 cups flour, baking powder and salt into large bowl. Set aside.
In bowl of electric mixer, combine 2/3 cup sugar, oil and eggs. Beat on high until creamy and lemony.
Reduce speed to low. Add milk and vanilla just til blended.
Add sugar mixture to flour mixture. Use a wooden spoon and stir til just combined (will be lumpy).
Toss berries with remaining 1 Tbs flour to coat, add to batter and gently fold inches.
Fill each hole in muffin tin until almost to the top.
Sprinkle the muffin tops with remaining 2 Tbs. sugar.
Bake for 20- 25 minutes until light golden brown.
Let pan cool then gently remove muffins.``.