PaulaG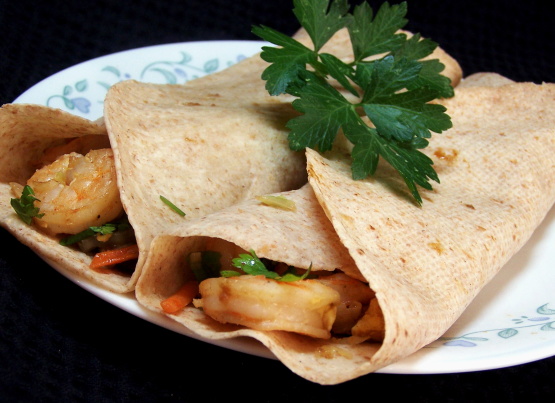 Quick and easy recipe from Food & Wine magazine. The original recipe called for cilantro leaves to be added for serving. We love cilantro, so I chopped them and added them to the dish at the end. Great with a light Riesling wine.
Top Review by PaulaG
Absolutely wonderful! The preparation requires the most time. Once everything is ready to go, this dish goes together very quick. I did use egg substitute for the eggs and some additional garlic. The cilantro leaves really set the flavors off. Thanks a wonderful and quick dinner.
Preheat oven to 200°F
Wrap tortillas in foil and heat until warmed through.
Heat wok or skillet to very hot and add 1 tablespoons oil to pan. When pan begins to smoke, cook shrimp until lightly browned and fully cooked. Remove shrimp to separate dish.
Add 2 tablespoons oil and cook eggs with a bit of salt and pepper until they make soft curds. Remove to plate with shrimp.
Add 2 tablespoons oil to pan and cook mushrooms with garlic and ginger until lightly browned. Add coleslaw mix and scallions, season with salt and pepper and stir-fry until wilted, but crunchy, about 4 minutes.
Return shrimp and eggs to skillet with hoisin sauce and combine all ingredients well.
Serve on warm tortillas.