Moo Shu Pork With Mock Mandarin Pancakes
Peter J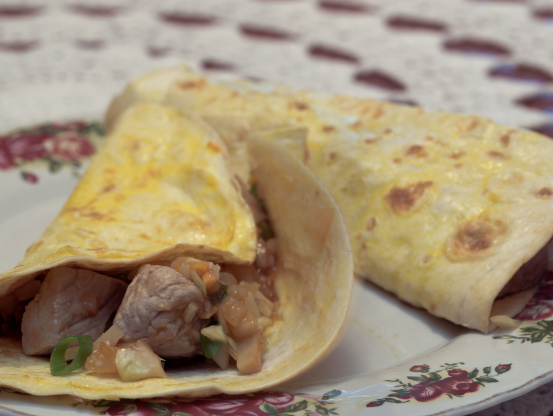 Tratditionally served in thin pancakes, this recipe has a surprising easy way to make the pancakes.

Delicious! Really quick to put together and I loved the flavour added by the sesame oil in combination with the crunch of the coleslaw mix and water chestnuts. Only change I made was to use some diced pork rather than slicing myself and added a little splash more sesame oil between every second tortilla because they seemed to soak it up pretty well.
Thinly slice green onions reserving 1/4 cup for garnish.
Coursely chop water chestnuts with a food chopper.
Combine hoisen sauce and 2 teaspoons of oil in a cup and set aside.
For the pancakes, heat remaining teaspoon oil over medium-high heat for 1-3 minutes or until shimmering.
Lightly beat eggs in a coating tray.
Dip 1 tortilla into eggs, and place tortilla in skillet.
Cook 20-30 seconds or until lightly golden brown, turning once.
Repeat with remaining tortillas.
Cover pancakes and keep them warm.
Flatten pork with toothed end of a meat tenderizer, and cut into 1/4 inch strips.
Add pork to skillet, cook 2-3 minutes over medium heat or until no longer pink.
Add remaining green onions, water chestnuts, cole slaw mix, and hoisen sauce mixture.
Cook 2-3 minutes or until heated through, tossing to coat.
Spoon pork mixture into pancakes, and garnish with reserved onions.