K9 Owned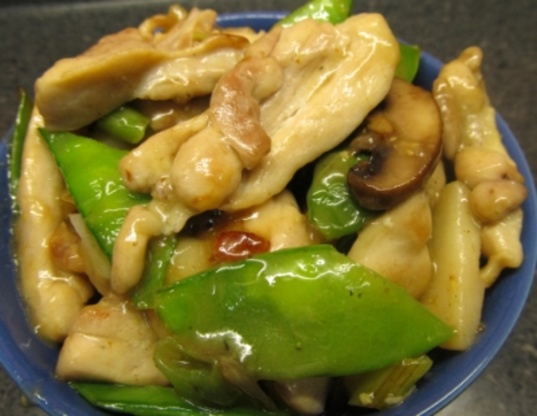 We love stir-fries and this another good one. Be sure to prep all of the ingredients before you start cooking, as the cooking goes very quickly.

*So much better than take-out* - and SO easy, especially with the clear, step-by-step instructions. Although this does serve four, the two of us nearly finished it since it was SO good! The only change I made was to marinate the chicken in sesame oil and shao xing (sherry) wine. This makes lots of delicious sauce so be sure to make some rice!
Partially freeze chicken; thinly slice into bite-sized strips.
In small mixing bowl stir together the water, soy sauce, dry sherry, cornstarch, honey, and instant chicken bouillon granules; mix well.
Slice the drained water chestnuts; set aside.
Halve the pea pods crosswise; set aside.
Slice the mushrooms and the green onion; set aside.
Grate 2 teaspoons gingerroot; set aside.
Heat the oil in wok over high heat.
Add the chicken to wok and stir-fry 3 to 4 minutes.
Remove chicken.
Add more oil, if necessary.
Stir-fry water chestnuts, pea pods, mushrooms, green onions, and ginger for 3 to 4 minutes.
Return chicken to wok.
Stir the bouillon mixture and stir into chicken.
Cook and stir until thickened and bubbly.
Cover and cook 2 minutes more or until heated through.