Montreal Steak Seasoned Roasted Baby Potatoes
LorenLou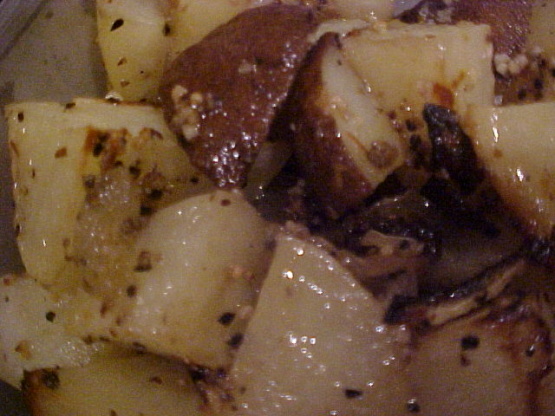 A simple little nothing recipe, that results in big flavor. I use white onion with red potatoes, or red onion with white potatoes.

This recipe (minus the onion)is one my husband's family loves! Whenever I make these I can't stop at just one serving. Montreal Steaking Seasoning is very strong smelling on meat, but when baked for such a long time on potatos it changes the flavor of it somehow. It's still recognizable, but softer, blended, caramely, and mixes with the sweetness of roasted potatos perfectly. We usually chunk the potatoes, toss with melted butter and an "eye-full" of the seasoning, bake for 45-60 mins tossing a few times to brown everything, and serve with fish or a roast. No need for ketchup!
Wash and slice baby potatoes into 1 inch thick slices.
Put in roasting pan along with thinly sliced onion.
Sprinkle with the Montreal Steak seasoning.
Pour oil over top, toss to coat well.
Bake in 400°F oven for approximately 30 minutes, turning once.
Potatoes are done when they are golden brown, with soft centres.