Kana K.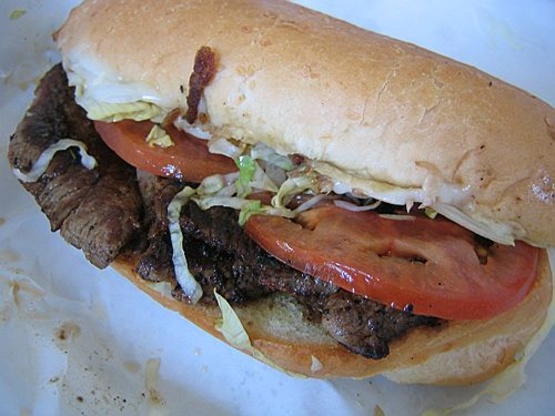 The combination of the steak, tomato and carmelized onion gives this sandwich a wonderful moistness that screams "hold the mayo" so I do.
1⁄2 French baguettes or 1⁄2 French roll
3⁄4 lb sirloin or 3⁄4 lb skirt steak

1

medium roma tomato, sliced thin

1

maui onion, peeled and sliced into 1/4-inch thick slices

For The Steak Marinade

1⁄4 cup garlic oil or 1⁄4 cup olive oil
1⁄8 cup soy sauce

2

teaspoons McCormick's Montreal Brand steak seasoning
Combine steak, olive oil, soy sauce and Montreal Steak Seasoning in a plastic bag and marinate overnight.
Remove steak from refrigerator 1/2 hour before grilling, discard marinade and Grill to desired doneness.
When steak is finished grilling, set aside and start grilling of onions as steak will need to "rest" a couple of minutes while it finishes cooking.
Heat grill to high. Brush onions on both sides with oil and season with salt and pepper. Grill on each side for 3 to 4 minutes or until slightly charred and just cooked through.
Slice the baggete and hollow out, Layer thin slices of Roma tomato on bottom of bread add sliced steak ,top with grilled onions and top of bread.