Montreal Garlic Smashed Potatoes
GaylaJ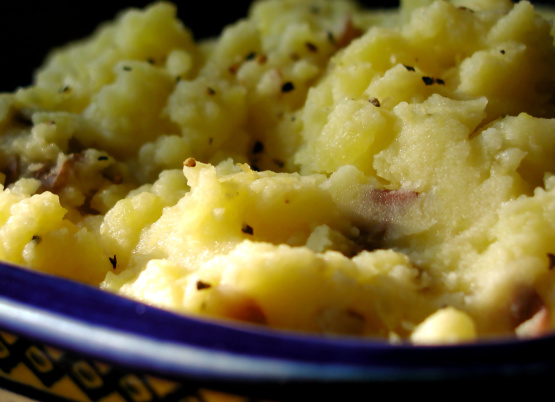 I love Montreal steak seasoning and never thought to add it to vegetables. These potatoes are outrageous! Found this on the internet, but it most likely originated from McCormick.

Very good smashed potato recipe. I made these to go along with a surf and turf dinner. they complimented both the beef and seafood wonderfully. thank you for sharing this recipe with us, I will use the again and again.
Cover potatoes with water and bring to a boil.
Reduce heat to medium and cook for about 20 minutes or until potatoes are tender.
Drain potatoes and return to saucepan and reduce heat to low.
Add parmesan cheese, steak seasoning and garlic powder.
Mash potatoes with a fork or potato masher.
Gradually add milk, butter and sour cream until all ingredients are combined.
Serve immediately or spoon into a lightly buttered 1 1/2 quart baking dish.
Cover and keep warm in a 250° oven until ready to serve.