Kim D.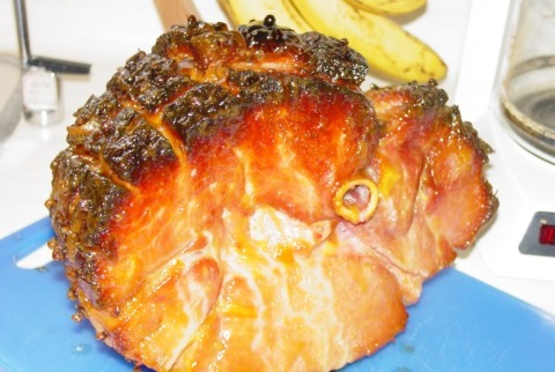 My husband wanted ham for Christmas, but the local meat market sold out early of honey glazed hams. I decided to try baking my own ham and found this recipe on the internet. I adapted it just a bit using regular mustard and honey instead of Dijon mustard. It turned out great and my husband says he prefered it cooked this way over the honey baked ham! It wasn't near as salty and had a wonderful flavor! Plus, the cost of preparing this ham was about 1/3 of the cost of a Honey Baked Ham!

OMG! This ham was delicious! I was shopping around for a recipe to use for Easter and decided to test drive this one and WHAT A WINNER! Had some family over and we have all decided this is our Easter ham Yum-Yum!!!
Trim outer skin and excess fat from ham.
Place ham, meat side down in a large roasting pan and score, making crosshatch incisions with a sharp knife.
Turn ham back on its side.
Roast at 300F for 2 hours.
Remove from oven.
Mix together the orange marmalade, mustard, honey, and brown sugar.
Stud ham with cloves, either by inserting one clove at the intersection of each crosshatch or by inserting in the center of each square.
Brush ham with glaze.
Increase oven temperature to 350F and return ham to oven for about 1 1/2 hours, or until themometer inserted near bone (but not touching bone) reaches 160°F.
Glaze the ham at least 3 times while baking.
When ham is done, transfer to a large cutting board or platter and allow to rest for 30 minutes before carving.