teresas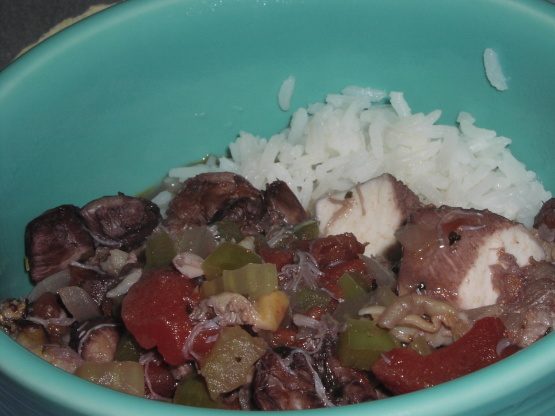 This is a decadent stew that is loaded with seafood. From the Monterey coast in California famous for seafood. Serve with a crusty bread to soak up the juices. Passive time includes marinate time.

Well here I am correcting a major mistake. I thought that SAUTERNE was a RED wine. It's WHITE. I plan to make this again using...the correct wine. Thank you Shirl for pointing out my error. I will also post a picture with the dish prepared with white wine.
Dry bass, shrimp and scallops on paper towels.
Cut bass in 1 inch squares.
Pick over scallops to remove any bits of shell.
Place in a deep bowl, add wine and marinate 4 hours in refrigerator.
Cook onions, peppers, celery and garlic in oil until tender but not browned.
Add bay leaves, basil and thyme.
Cook a minute or two to blend flavors.
Add tomatoes and salt and pepper to taste.
Cook uncovered 15-20 minutes, stirring now and then.
Add marinated fish along with wine.
Cook uncovered 6-8 minutes, just until fish is done.
Add lobster, crab and clams.
Heat thoroughly.
Can serve over rice.