diner524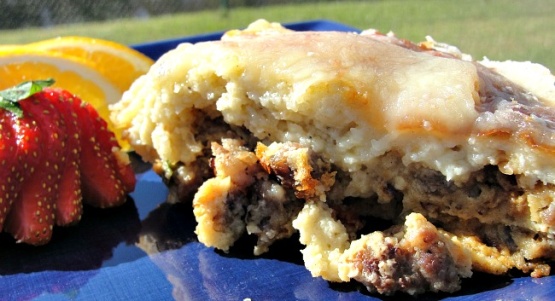 Found this in a 30 minute or less cookbook. I tried this, and have tweaked it a little, Quick dinner for the family.
A very tasty sausage pie/casserole!!! I bought a tube of Bob Evans Sausage and the first day I made pancakes and sausage patties. Once we ate, I added the sausage and veggies(forgot the mushrooms when shopping) into the pan and cooked and cooled them. Then today for our brunch, it was so easy to just layer in the sausage, cheese and mix up the bisquick, egg and seasonings. I only made 1/3 of the recipe for DH and myself and served it with some fresh fruit. Congrats again on your win in the football pool.
In a large skillet, cook the sausage, onion, and bell pepper, mushrooms, and garlic over medium heat until sausage is no longer pink, drain.
Stir in 2 cups cheese, and transfer to a greased 9 inch deep dish pie plate.
In a small bowl, combine the milk, eggs, bisquik, sage, and pepper, and pour over sausage mixture.
Bake at 400 degrees for 20-25 minutes or until a knife inserted comes out clean.
Sprinkle the remaining 1/2 - 1 cup cheese and bake 1-2 minutes longer, or until cheese is melted.
Let stand 10 minutes before serving.