Monterey Cream-baked Tomatoes
Barb G.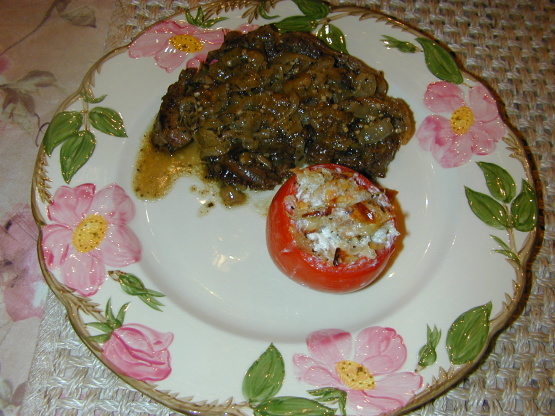 These are whole tomatoes, stuffed with an herb and crumb topping and baked in cream, which makes a lovely sauce. They are very rich, and I serve them with garlicky, robust meats, like lamb or garlicky chicken... Adapted from, "California The Beautiful Cookbook."

These stuffed tomatoes were a really nice addition to our meal tonight. My DH fell in love with them--I guess so since he ate two of them by himself. I did not have fresh herbs so I used dried and they came out just fine. I also used some multi-grain bread for the fresh bread crumbs. Love the addition of the cream. Made for ZWT-8-France.
Preheat oven to 325 degrees.
Slice the top half inch off the tops of the tomatoes and scoop out the insides.
Arrange the hollow tomatoes in a glass baking dish that is large enough to hold them and with room in between and sprinkle with 1/2 teaspoon salt.
Melt the butter in a skillet and saute the onion and garlic until it is translucent.
Stir in the crumbs and seasonings.
Stuff each tomato and mound the stuffing on the top of each one.
Pour the cream into the baking dish and bake 20 to 30 minutes.
The tomatoes should be soft but not mushy.
Remove tomatoes to a platter and pour the pan juices into a skillet and cook over medium heat to reduce slightly.
Pour the sauce around the tomatoes and serve immediately.